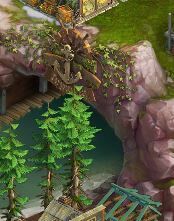 Forgotten Bay is reached using the anchor over the river at the home Station.
Forgotten Bay is unlocked by obtaining the Compass from Captain Hamilton in Rocky Coast.
Forgotten Bay may only be visible to those level 35 and above? (Clarifying this previous claim at the moment)
Silver is the only currency used in Forgotten Bay.
Silver is obtained by
A good way to gather Silver is to visit your neighbor's ports and click on things.
clearing rocks and opening the Hide left behind.
The large stones (30 hits or more) yield Silver
Shells contain various treasures and are scattered randomly on beach
The more objects on the beach are cleared, the more shells appear (up to a max of 5). When the beach is cleared barrels appear with extra experience & energy as their treasure. This extra energy will allow you to clear large stones
Seagulls randomly fly across the sky and if clicked on yield experience and items from Feather Set.
Using Map to travel to other locations
To travel to other locations you need to complete building of a Ship. Your first ship is a Yacht built with parts in the Shipyard, Shipwrights, and Sails Manufacture
Market
The Market in Forgotten Bay contains different items than those at your home Station.
Kraken Bridge
In order to cross the Kraken Bridge it must be rebuilt. This requires 2 Pearl of the Kraken. Not sure where these are found.
Quests
The objective is to rebuild the Shipyard. This requires
Cooper's Workshop which costs 8,000 Silver
Next requires a Fruit Press 6,400 Silver
Laboratory 12,000 Silver
Sails Manufacture 16,000 Silver
Shipwrights 24,000 Silver
Main quest
Orders
I had to get enough silvers to enlist the support of the most experienced crew. Sailors valued that currency more than any treasures.
- Complete a few orders in the Trader Wagon (4 orders)
Reward 1000 silver.
On the high seas, the weather can be unpredictable, and few dare set sail in the storm. However, with descent pay, sailors' mood changes as fast as the wind.
The First Foundation
It was getting colder. I didn't want my crew to spend the night outdoors. I had to build a decent shelter as soon as possible.
- Buy and place the foundation of the bungalow. (1000 silvers)
- Build a Bungalow.
Reward: 10 Bricks, 10 Tinplates.
By nightfall the sailors were gaining strength in a warm and comfortable bungalow. That day was just the beginning of a long adventure on the island.
Tavern
It's hard to imagine a port without a tavern. Brave sailors need a place to sleep, relax and find new employers.
- Build a tavern
Reward: 1200 silver.
Somebody had already built a foundation, and I finished the construction. The Tavern was solid enough to protect sailors from bad weather.
Cooper's Workshop
I was not going to stay on that island forever. The sea was calling, but I had neither ship nor idea how to process wood for it. I needed an expert in ship building.
- Buy and place the foundation of the Cooper's Workshop.
- Build the Cooper's Workshop. (10000 silver)
Reward: 1 Lucky coin, 6 Plaid throw
I had all materials needed and started studying the theory of ship building.
Produced in Coopers Workshop
10 Fir-tree logs + 1 Saw = Fir-tree Boards
1 Beam + 1 Wood Stain = 1 Stained Beam
7 Fir-tree Boards + 5 Tinplate = 1 Sturdy Barrel

Fruit Press
The hot and humid climate made the island a perfect place for growing southern fruit. I couldn't wait to try them.
- Build and place the foundation of the Fruit Press.
- Build the Fruit Press.
Reward: 10 Wooden veneer, 8 Ribbon
The drinks made from freshly squeezed fruit were exactly I needed when working in the midday heat.
Laboratory
I needed some special compounds to make my ship resistant to salt water. But first I had to build a suitable place for my researches.
- Buy and place the foundation of the Laboratory.
- Build the Laboratory.
Reward: $ Sideboard, 6 Stool
I decided to write a letter to Professor. His knowledge of chemistry would be a great help.
Sails Manufacture
Captain Hamilton used to say you can't catch the wind with a net. To discover other islands I needed to setup the production of sails.
- Buy and place the foundation of the Sails Factory.
- Build the Sails Factory.
Reward: 50 Energy, 5 Paper
Shipwrights
I needed skillful shipwrights to build and repair vessels. They would make masts, yards and other parts for my ship.
- Buy and place the foundation for the Shipwrights.
- Build the Shipwrights.
Reward: 3 Mug, 10 Pipe

Shipyard
We found an abandoned building that obviously used to be a shipyard. I decided to restore it.
- Build the shipyard
Reward: 1 Compass
Side Quest 1
Vagaries of the weather
I decided to start manufacturing products needed for my sea voyages. But first, I had to clear some land for the construction.
- Cutout some bushes to clear the space. (5 bushes)
- Buy some Mango trees. (4 trees)
- Harvest Mangos. (8 Mangos).
Reward: 10 Beam, 10 Boards, 50 Energy
The climate of the island was strikingly different from the one I was used to. Could people have left the island because of the fierce sun?
First Harvest
It was gardening time. I needed a few greenhouses for vegetables and fruits.
- Buy a Tropical Greenhouse.
- Grow first jute crop in the Tropical Greenhouse. (5 jute)
Reward: 100 Energy, 10 Cable
The hotbeds turned out to be very spacious, and they quickly pay off with good harvest.
Fish Stall
The could provide food for our small settlement. I decided to build a fish stall.
- Buy and place the foundation of the Fish Stall.
- Build the fish stall.
Rewards: 50 Energy, 8 Fabrics
The Fish Stall was ready and it was time to test my fishing skills.
Traps
Fishing in the stormy sea was a challenge. I definitely needed some fishing nets and traps.
- Make some traps in the Fish Stall. (3 traps)
Reward: 5 Tiles
I got used to the never-ending roar of the surf, all my clothes smelled like the sea, and it seemed I'd been living on that sunny island for a long time.
Sea Fishing
Hoping for a good catch, I took my tackle and went fishing.
- Catch some sea fish (30 fish)
Reward: 60 energy
The sea was generous and my catch was really impressive!
Side Quest 2
Logging
One can't build a ship without wood. So we had to stockup on boards.
- Make some fir-tree boards in Copper's Workshop. (6 boards)
- Buy some Coconut palms. (4 palms)
- Harvest coconuts. (8)
Reward: 7 Window, 10 Beam, 50 Energy
Buildings
Bungalow
A small beach house for one person. You can hire workers for 9 hours.
Cost: 1000 silver
Stage 1: 10 Stone, 10 Wool, 10 Clay.
Stage 2: 20 Ordinary logs, 20 Fir-tree logs, 20 Sequoia logs.
Stage 3: 8 Nails, 8 Boards, 8 Cable.
Tavern
Here you can hire and fire sailors.
Stage 1: 50 Ordinary logs, 20 Nails, 20 Boards
Stage 2: 10 Table, 20 Stool, 10 Window
Stage 3: 10 Buffets, 10 Kettle, 5 Mug
Sawmill
Here you can cut down large trees without wasting energy. 1 worker
Cost: 4,000 Silver
Stage 1:
Quarry
Here you can, without wasting energy, mine mineral resources; stone, iron ore, coal and clay. 1 worker
Cost: 4,000 Silver
Stage 1: 60 Stones, 20 Clay, 20 Boards
Stage 2: 40 Fir-tree Logs, 20 Nails, 12 Beams
Stage 3: 15 Chains, 10 Tiles, 5 Windows
Stage 4: 10 Saws, 5 Containers, 5 Pillows
Fish Stall
Here you can make fish traps. No workers
Cost: 6,400 Silver
Stage 1: 20 Nails, 20 Beam, 20 Bricks
Stage 2: 10 Tile, 20 Wire, 10 Pipes
Stage 3: 6 Shelvings, 6 Blue Extract, 18 Slate
Cooper's Workshop
Here you can process wood for barrels and other stuff. 4 workers
Cost: 8,000 Silver
Stage 1: 15 Nails, 10 Beam, 10 Boards
Stage 2: 5 Red Extract, 2 Furnace, 15 Chains
Stage 3: 15 Saw, 15 Wire, 15 Cable
Fruit Press
Here you can make material for sails. 6 workers
Cost: 6,400 Silver
Stage 1: 20 Stones, 15 Ribbon, 15 Wood veneer
Stage 2: 15 Wire, 10 Tile, 6 Pillow
Stage 3: 4 Shelving, 8 Bucket, 4 Blue Extract
Laboratory
Here you can make chemicals. 6 workers
Cost: 12,000 Silver
Stage 1: 20 Bricks, 20 Boards, 15 Tinplate
Stage 2: 6 Table, 6 Red Extract, 80 Coal
Stage 3: 5 Buffet, 3 Furnace, 6 Stool
Stage 4: 10 Socks, 5 Blue Extract, 15 Container
Sails Manufacture
Here you can make materials for sails. 8 workers
Cost: 16,000 Silver
Stage 1: 60 Stones, 20 Slate, 10 Window
Stage 2: 10 Shelving, 20 Cable, 20 Fabric
Stage 3: 20 Chain, 8 Buffet, 4 30-Carat Diamond
Stage 4: 15 Pipe, 6 Cardboard, 30 Tile
Shipwrights
Here you can make wooden parts for ships. 10 workers
Cost: 24,000 Silver
Stage 1: 20 Bricks, 20 Beams, 30 Wood Veneer
Stage 2: 20 Chains, 15 Saw, 10 Fittings
Stage 3: 20 Pipes, 10 Tables, 10 Shelving
Stage 4: 25 Tiles, 30 Nails, 10 WIndows
Shipyard
Here you can build ships and pack provisions for sailors
Cost: None
Stage 1: 60 Sequoia Logs, 70 Stones, 40 Clay
Stage 2: 20 Chains, 10 Buckets, 10 Windows
Stage 3: 20 Slate, 25 Wood Veneer, 10 Shelving
Stage 4: 8 Tables, 10 Paper, 25 Cables
Forgotten Bay layout