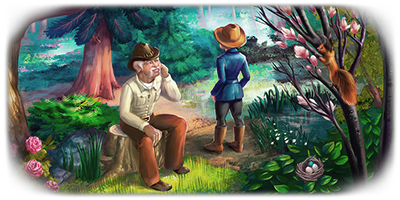 About
Introduction
A permanent non-timed location in Blue Peaks Valley you can visit by dog sled.  (You may have to leap-frog through Wind's Song to get there.)
Inhabitants
Fred
pair of archaeologists
Unique Features
Forest Hut
Archaeologists' House
Unique Barter:
Achievement Building
Equipment Requirements
Station Warehouse : Forest Hut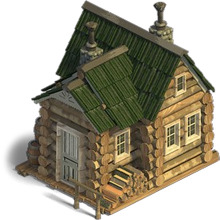 Here you will find many common recipes from all the lands in Blue Peaks in one place.
.
.
.
Item Exchanges Available
The copied image to the right should have all the item exchanges; only the ones near the end that are similar to Wind's Song are currently in the proper format in the table above.
.
.
.
.
.
.
.
.
.
.
.
Archaeologists' House

 :
A special building that works like the Quarry at your station. It is used to process the 13 Amber Resin deposits (50 min each to process?) to extract Pages of Father's Diary. (Alternatively, amber resin can be blown up with dynamite.)
Reconstruction Requirements:
Stage 1:
Stage 2:
Tasks Unlocked Upon Completion:
Associated Quests
The first quests involve clearing the land and finding the amber which contains Diary Pages.
Finding Diary Pages
Familiar Place
Total Recall!
In Darfood I met Fred, one of the members of the missing expedition! He lost his memory and I needed help him to restore it to find out anything About my father.
Find and restore all Familiar Places in Darfoot. (5 places)
Restoring all 5 places gives a Special Gift as reward.
Reconstruction Requirements:
First Place Stage 1/1:
Second Place Stage 1/2:
Second Place Stage 2/2:
Third Place Stage 1/2:
Third Place Stage 2/2:
Forth Place Stage 1/1:
Fifth Place Stage 1/2:
Fifth Place Stage 2/2:
Notes
If you bring extra Porridge you can take the sled back & conserve Kerosene.
Help finding the amber resin in a YouTube video
This location was added in 2018.
Travel Information
Travelable distances to other locations from Darfoot are as follows:
Darfoot is 198 km from the Home Station, which is farther than you can go in one trip unless you upgrade to the modern sled. You can go to Wind's Song first, and then on to Darfoot.
Maps